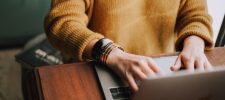 Master of
Business Administration
#1 Ranked
TMU Online is ranked the #1 Best Online Christian College and University in America by Crosswalk. Crosswalk.com, 2022
12 Months
Full-time MBA students can finish in as little as 12 months.
8 Weeks
All courses are offered in 8-week formats and available year-round allowing students the flexibility to complete their degree on their time.
The fully online MBA through The Master's University will provide you with the skills and knowledge you need to be a leader in today's business world.
The Online MBA program, designed by business leaders with real-world experience, will train you to become the leader God has gifted you to be. As a TMU MBA graduate, you will be ready to meet an organization's challenges and effectively lead them into the future, emphasizing integrity and an eternal impact for the Kingdom of God.

"In Spring 2022, TMU Business students scored in the 97th percentile in the E.T.S. exam, out of 700 colleges and universities."
Spring 2022 E.T.S. Exam Scores
Why Earn a Master of Business Administration?
Get Paid More: A graduate degree plus experience makes you a more valuable employee.
Develop New Skills: Our graduate degrees are designed to be practical and give you real-world knowledge and experience.
Accelerate Your Career: Set yourself apart with a degree that will help you grow towards your career goals.
Deepen Your Knowledge: Gain knowledge in the subject of your choice and learn how to apply that knowledge to the Christian life.
Create a Professional Network: Connect with professors and students who are leaders and innovators in their fields.
The Master's University is committed to providing quality Christian Education to believers worldwide.
MBA Admission Requirements:
Have a clear profession of faith in Jesus Christ as your personal Savior.
Have completed a bachelor's degree at a regionally accredited college or university with a cumulative grade point average (GPA) of at least a 2.75.
Submit official transcripts from all other colleges and universities attended.
*Individual programs may have additional requirements.